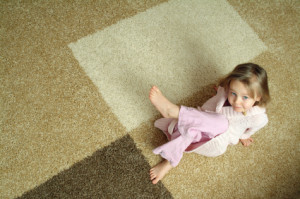 When you own or are responsible for carpeting and keeping it clean, there are some things you should never use on the carpet to clean up spots or areas that get dirty. There are many things you can try at home to remove a stain, including vinegar or baking soda which you hear a lot about for home-made solutions for carpet cleaning. Yet you don't often hear about home remedies you shouldn't use to clean a Howell carpet stain or spill.
Don't Cause Ground In Carpet Stains
As soon as a spill or stain happens, you'll want to try and remove it. Never let it sit and dry in, coming back at it later with an attempt to clean it up. For one thing, you'll have foot traffic on it at some point, which will cause it to be ground in. Second, never rub at a stain. You should only dab, brush, dab, etc.
One of the worst things you can do is to grind in the stain, and sometimes by trying to get it clean you're actually making it worse by spreading the stain around instead of actually getting it cleaned. So first, you'll need to know to never use a cloth and rub at the spot.
If you use anything at all, use a brush and sponge, and a clean cloth. You'll only be dabbing at the stain, never rubbing at it or the stain gets ground in.
Never Use The Following Solutions On Carpet Stains
Bleach – Even if you water down the bleach, you may not have the water to bleach ratio correct, which means you can strip the color off the carpet fibers. Trust us, cream color carpeting won't end up white and the spot will definitely show.
White Wine for Red Wine Spills – Never use white wine on red wine carpet stains. Use club soda or call in a professional instead. Be sure to blot and dab it up, not rub. Just put some club soda on a clean towel and blot until clean, always using a portion of a towel that's clear of red wine stain.
Abrasive Cleaners – Never scrub at a stain and don't use any type of abrasive cleanser or cleaning tool because it only grinds in the stain.
Laundry Detergent – While laundry detergent works on laundry, it creates a soapy mess on your carpet that's difficult to remove.
Call A Professional Carpet Cleaning Company
Not everyone wants to mess with Howell carpet stains and carpet cleaning. If you've tried to get your carpet stains out and haven't had much luck or you want to get your carpets truly clean deep down, call the professionals at Steam Team.
We've been cleaning carpets in the Howell, New Jersey area for years and are well known by many property management, real estate professionals for residential carpet cleaning. Put your trust in the go-to carpet cleaning company at Steam Team for a safe, natural way to thoroughly and easily clean your carpets!
If you are looking for a Howell carpet cleaning then please call 732-893-7555 or complete our online request form.